Music Director and Conductor of the Chamber Orchestra and the Symphony Orchestra
Hailed as "one of the most interesting and accomplished conductors of his generation," Julien Benichou is noted for his blend of flexibility and control, inspiring musicality and incredibly infectious energy. Benichou currently serves as Music Director for the Mid-Atlantic Symphony Orchestra (MSO), and was recently appointed Principal Conductor of the Washington Opera Society. He is also the Music Director of the Chesapeake Youth Symphony Orchestra (CYSO) and the Southern Maryland Youth Symphony Orchestra (SMYOC). This past December, he
made his debut with the New York City Ballet, in Balanchine's The Nutcracker, and returned to Carnegie Hall, in a concert that featured Robert Redford and Vice-President Al Gore.
Executive Director and General Manager
Linda Foss joined the Chesapeake Youth Symphony Orchestra in March 2007 as Executive Director, after serving as a volunteer Ensemble Manager for the Strings Ensemble and then the Concert Orchestra. Together with Music Director Julien Benichou, Linda administers and executes the CYSO mission to bring the young musicians of the Annapolis-Baltimore-Washington region together to enjoy and refine their musical skills with the study of ensemble repertoire.
Dane Krich is a versatile freelance percussionist in the Baltimore and D.C Metropolitan areas. An active orchestral and chamber musician, Dane has played percussion with the Lancaster Symphony Orchestra, Mid-Atlantic Symphony Orchestra, Annapolis Symphony Orchestra, Maryland Symphony Orchestra, Concert Artist of Baltimore, Baltimore Philharmonia Orchestra, Landon Symphony Orchestra, Trinity Symphony Orchestra, and the Central Maryland Chorale. His timpani credits include the Mid-Atlantic Symphony Orchestra, the Pan American Symphony, Central Brass Ensemble, Trinity Symphony Orchestra, the World Bank Chamber Orchestra and the St. John's Chamber Orchestra. A well-practiced drum set artist and hand drummer, Dane is versed in many different styles of music and has played and toured with the likes of Martin Short, Chita Rivera, Rita Moreno, Bay Street Brassworks and many other jazz, Cuban, Brazilian, Gospel and Rock/Pop ensembles. Dane has had the honor to grace the pit at Barack Obama's 2nd inauguration at the Kennedy Center, as well as the stage at Carnegie Hall in Tim Janis's production The American Christmas Carol.
Conductor of the Concert Orchestra
Christopher M. Cicconi is Director of Bands and Orchestras and Assistant Professor of Music Education at Towson University. Conductor of the Towson University Symphonic Band and Symphony Orchestra, he also teaches courses in graduate and undergraduate conducting, methods of teaching instrumental music in secondary education, and is an instrumental music education student teacher advisor. Prior to his arrival in Maryland, Cicconi earned a Doctoral of Musical Arts Degree in Instrumental Conducting from the University of Miami, where he was awarded a Henry Mancini Fellowship and was a student of Mr. Gary D. Green.
Conductor of the String Orchestra
Robert Stojakovich has been a music teacher in Anne Arundel County for the past 30 years. He has taught at Southern Senior, Southern Middle, South River Senior, Edgewater Elementary, Bates Middle, Chesapeake Senior and Magothy River Middle School where he is currently the instrumental music director.
Under his direction the Bands and Orchestras have continued a pursuit of excellence in competition and festivals at the county, state and national levels. At the age of 20 Mr. Stojakovich received a Bachelor of Science in Music Education from Duquesne University in Pittsburgh, Pennsylvania. He has done graduate work at the University of Maryland and West Chester University.
Conductor of the Preparatory Orchestra
Equal parts conductor, performer, and educator, Emma Baker is deeply committed to musical artistry and the spaces that foster it. Ms. Baker is especially interested in the development of young string players, a passion she discovered in string pedagogy classes with Rebecca Henry, and one that she pursues in her work with the beginning strings at Washington Christian Academy as well as within her private studio. In addition to teaching strings, Ms. Baker is an active freelance violist in the DMV who has most recently performed with the New Orchestra of Washington and the Gay Men's Chorus of Washington DC. She also performs with Albany Pro Musica as well as other chamber orchestras in the Albany area.
Conductor of the Junior and Senior Flute Ensembles
Gail Vehslage is beginning her 19th season with CYSO. In addition to conducting the Junior and Senior flute ensembles, she founded and conducts a large adult flute ensemble that has won national recognition. Her varied musical career has included being an orchestral performer, chamber musician, private flute instructor, music camp director and High School Band and Orchestra conductor. Her students have won numerous scholarships to prestigious conservatories and schools of music.
Conductor of the Wind Ensemble
Mrs. Balderson is a retired teacher from Anne Arundel County Public Schools after 40 years of teaching. She is musically active as a flautist maintaining a private studio and performs with the Chesapeake Flute Consort. Mrs. Balderson is also very active as an adjudicator and guest conductor.
Mrs. Balderson grew up in Annapolis, Maryland and is a graduate of East Carolina University. She completed her graduate work at Towson University and the Peabody Conservatory of Music in Baltimore, Maryland.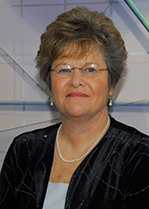 Conductor of the Jazz Band
Known for his touch, versatility and musical approach, jazz drummer Steve Fidyk has earned national and international acclaim as an artist, author, composer and columnist. For more than 21 years, he was the drummer and featured soloist with The Army Blues Big Band, a premier 17-piece jazz ensemble stationed in Washington D.C. During his tenure, Fidyk performed for seven U.S. Presidents, numerous dignitaries, and traveled throughout the Middle East supporting the troops during a USO tour in 2008. With his second album as bandleader, aptly titled Allied Forces (2016), Fidyk has gathered together a powerful lineup and has succeeded in pushing his hard hitting melodic message to the front lines. The musicians on the date include the amazing frontline contributions of tenor saxophonist Doug Webb and alto saxophonist Joseph Henson, alongside the crack rhythm section of guitarist Shawn Purcell, and organist extraordinaire Brian Charette.
Assistant Conductor
Praised by the Herald Times for his "razor sharp and charismatic performances," conductor Jamie Reeves is a versatile artist committed to presenting a broad repertoire of symphonic works, while cultivating a larger, more diverse audience of classical music lovers.